Posted on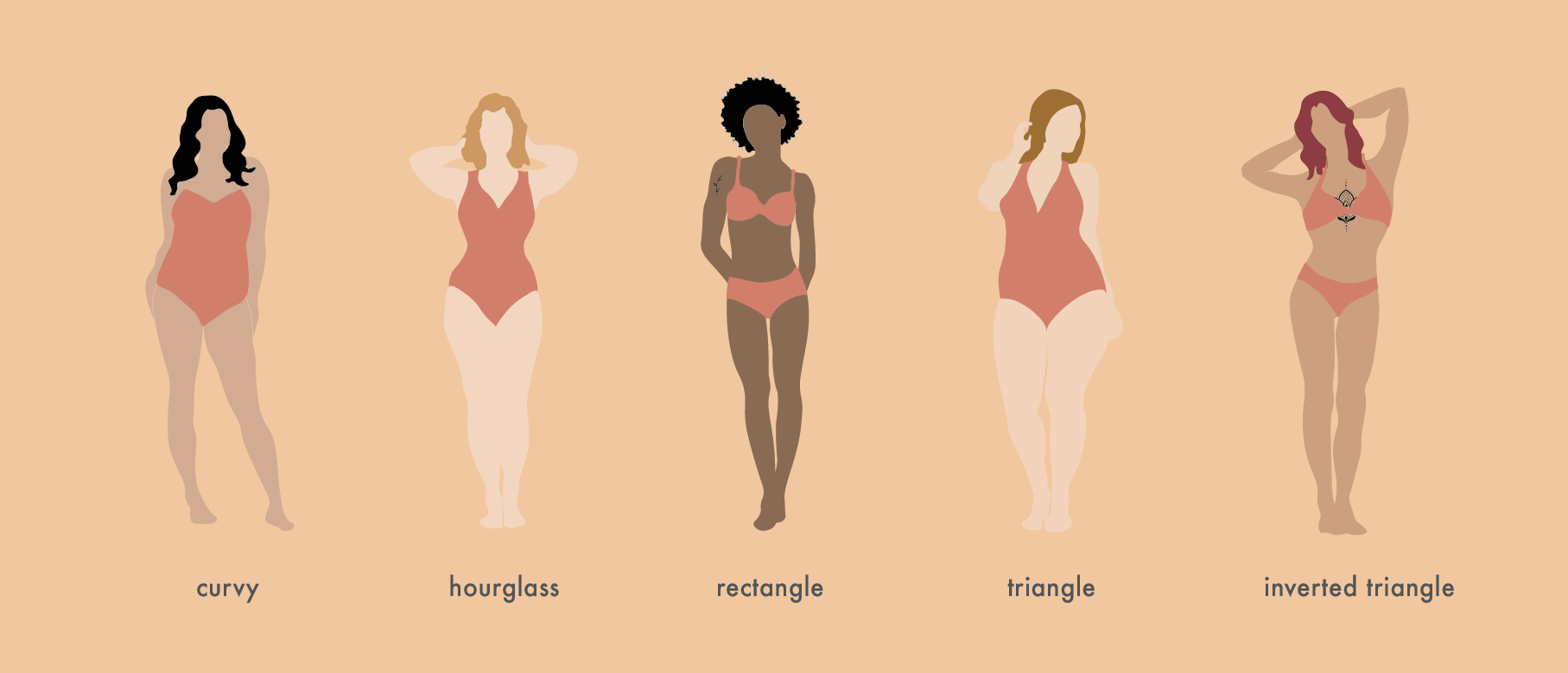 We'll just start this out by stating the obvious - anyone can wear any style of clothing they like. The only thing that truly matters at the end of the day is that YOU feel confident in your outfit. That being said, we all have uniquely beautiful body shapes, and choosing certain styles based on your body type can help you find pieces that accentuate your favorite features and fit like a dream. We created this little guide to help you figure out which of our styles may work best with your body shape: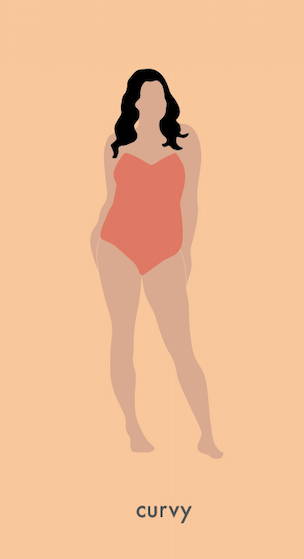 This might be you if your bust is larger than the rest of your body, your hips are narrow, and your midsection is fuller.
For this body type, we recommend styles that draw attention to your shoulders and legs, as well as those that create a more defined waistline. Our Maxi Wrap styles like the Stylized Feather Wrap Dress & Black Cherry Blossom Wrap Dress styles are perfect for this - their V-neck draws attention towards the shoulders, the tie-waist adds definition to the waist and the slit in front opens up just enough to show off those gorgeous legs of yours ;) Our Butterfly Maxi is also a great choice with its flattering butterfly sleeves and tie-waist. For tops, our Baby Cacti Peplum Blouse works great as it's designed to create a more defined waistline. Open font jackets like our Haori-Inspired Jackets also flatter your frame by adding long vertical lines.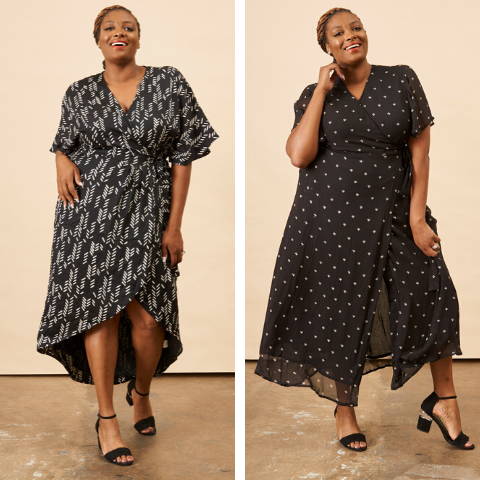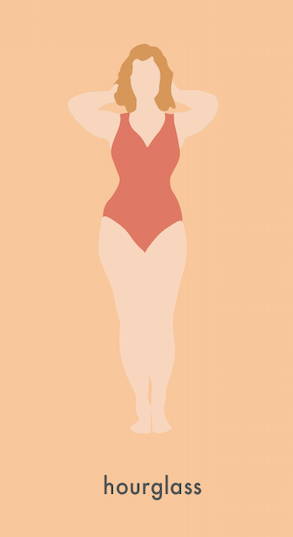 This might be you if your shoulders and hip measurements are roughly the same, you have a larger bust & booty, and you have a defined waist.
For this body type, we recommend styles that enhance your natural waistline and show off your curves. Our Midi Wrap Dresses work fabulously with this body type, as the more fitted top highlights the waist and flows effortlessly off the hips. Our Shirtdress styles also work well on this body type, as well as V necklines like those on our tunics. For outerwear, draw attention to your waist with belted jackets like the Velvet Peacock Duster!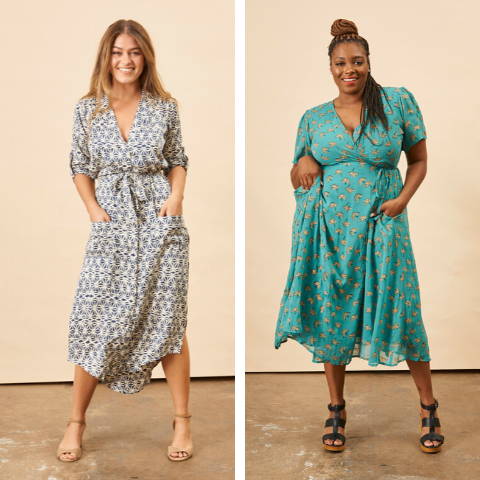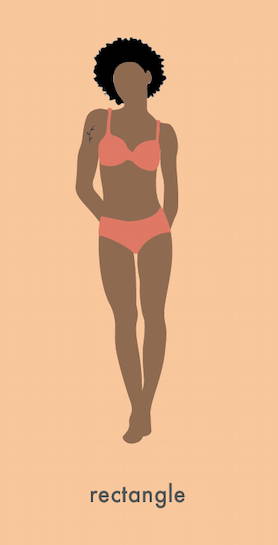 This might be you if your shoulder and hip measurements are nearly the same and you have a straighter build.
For this body type, we recommend styles that define your waist and hips, like our Empress Maxi style. Its fitted top helps to define your midsection while the swingy skirt adds a little 'oomph' to the hips and instantly creates an hourglass silhouette. Our Cropped Jumpsuits are another great option! V-neck tops also look great on you as they highlight your collarbone.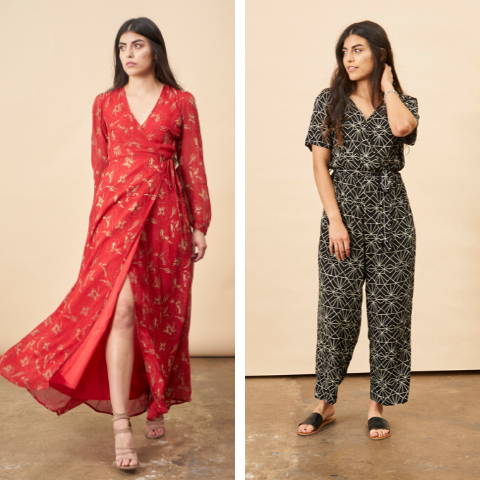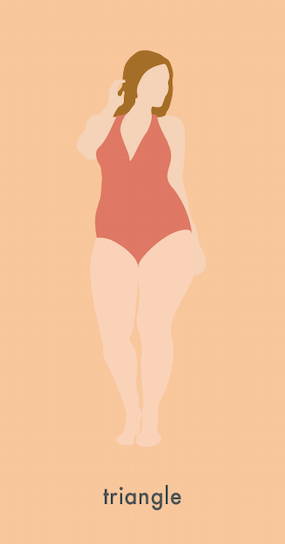 This might be you if your hips are broader than your shoulders and you have a defined waist that's narrow compared to your hips.
For this body type, we recommend styles that accentuate your top half and your defined waist while balancing out your hips. The defined waist and flouncy skirt on our Midi Wrap styles look amazing on this body type. Our Maxi Wraps also work well with this shape with their curve-defining tie-waist and V-neck that helps to open up your top half. Peplum tops will also help to accentuate your waist, as well as waist-length jackets like our Bombers.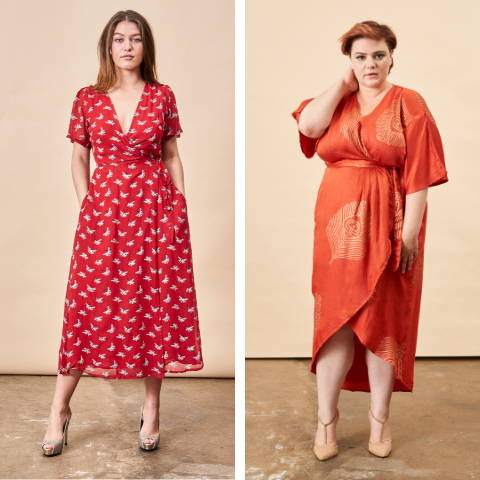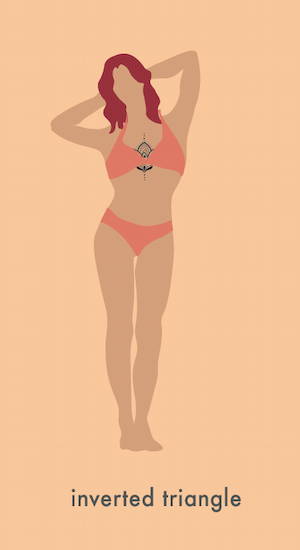 This might be you if your shoulders are the broadest part of your body and your waist and hips are narrower.
We recommend styles that add volume near your hips and elongate your neckline. Our Midi Wrap styles are great for this, with their deep-V neckline and fuller skirt, as well as our Midi Skirts, which also help balance out the hips. You look great in V-neck tops that create a long, lengthened neckline as well as peplum, which adds some 'oomph' to your hips. For jackets, you can't go wrong with waist-length pieces or longer, belted styles that accentuate the waist.